Welcome to the official Web Site of the City of Alma, Wisconsin.
       The City of Alma has prepared this website to provide you – current and future residents, business owners, and visitors – with up-to-date information and online convenience.  Please visit often and be sure to check this home page for the latest important information. For tourism information, please visit: http://www.explorealma.com
       The next Council meeting will be Thursday, April 13, 2023 at 6:00 p.m.
CLEAN SWEEP NOTICE
IMPORTANT NOTICE!!
Anyone still using Waste Management Bags (Green ones) your garbage WILL NOT be picked up. Garbage must be placed in the City of Alma clear bags that can be purchased at City Hall and/or Kwik Trip.
The City allowed for the exchange of the bags for the past 3 months and notice was given in November of 2022 about the change of haulers to Waste Transport and what needed to be done.
Again, garbage must be in the clear City of Alma bags and TIED, placed curbside by 8 a.m. on Thursdays. Do not put your bags inside of trash cans or they will not be picked up.
Garbage not in the City of Alma bags and placed out after 8 a.m. will not be picked up.
IMPORTANT NOTICE!!
Waste Transport has contacted my office regarding garbage bags not being tied.  They need the bags tied.
As you know Waste Transport will be the garbage hauler beginning January 1st. Originally they requested that the garbage be out by 6 a.m. on Thursdays.
I contacted them about the possibility of placing the garbage bags in garbage cans to keep critters out of the garbage since most people would be putting their garbage out on Wednesday evening due to the early pickup at 6 a.m.
They contacted my office today and said, "NO" they will not pull garbage bags out of cans, however, agreed to a 8 a.m. garbage pickup time.
So please have your garbage out by 8:00 a.m. on Thursday mornings. Do NOT put your garbage bags in garbage cans, they will NOT pick the garbage up.
Please pass this word around so we can have a smooth transition going from Waste Management to Waste Transport as our garbage hauler. THANK YOU for all your cooperation during this time.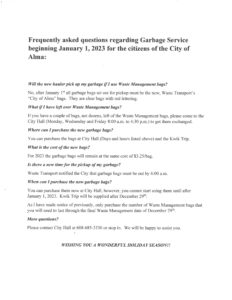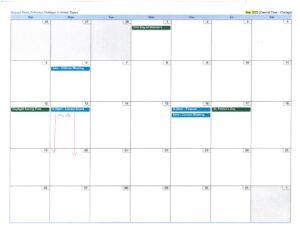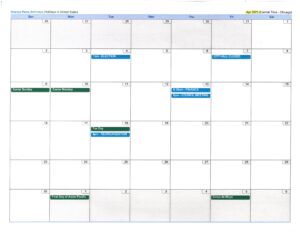 New Sewer Rates:  Click link below
     Ordinance 22 03 Revised sewer user charges
If you need a copy of your tax bill you can click below and they are in alphabetical order.
 2022 Taxes Payable in 2023 below:
2022 Real Estate Tax Bills

2022 Personal Property Tax Bills

2021 Tax Listing

SIREN NOTICE