Welcome to the official Web Site of the City of Alma, Wisconsin.
       The City of Alma has prepared this website to provide you – current and future residents, business owners, and visitors – with up-to-date information and online convenience.  Please visit often and be sure to check this home page for the latest important information. For tourism information, please visit: http://www.explorealma.
Notice to Property owners:
  A Maintenance Assessment of all Real & Personal Property for the City of Alma will be conducted from Nov. 3, 2019 through February 29, 2020.  Please note the following from the Wisconsin Dept. of Revenue:
(click image to enlarge)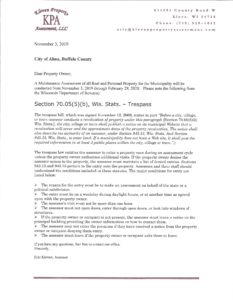 Ordinances Recently Passed
Residency Restrictions for Sexual Offenders 19 05

      The Council passed two ordinances regarding one-way streets for Pine Street, Orange Street and High School Road.  They also passed an ordinance regarding no parking on the East side of River St. between Pine and Orange and to restore two parking places on Main Street.
     Please click on links below for both ordinances.
Ordinance 19 03 Chapter 73 One way streets

Parking amendment to Chp 72 Ordinance 19 04

NEXT COUNCIL MEETING WILL BE THURSDAY, March 5,  2020 AT 6:00 P.M.

*View 2019 Tax Bills payable in 2020 below:
2019 Real Estate Tax Bills

2019 Personal Property Taxes

2019 Tax Listing

SIREN NOTICE