Welcome to the official Web Site of the City of Alma, Wisconsin.
       The City of Alma has prepared this website to provide you – current and future residents, business owners, and visitors – with up-to-date information and online convenience.  Please visit often and be sure to check this home page for the latest important information. For tourism information, please visit: http://www.explorealma.
TRICK OR TREAT HOURS
 click on photo to enlarge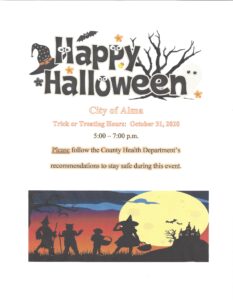 IN PERSON VOTING BEGINNING OCTOBER 20TH
click on picture to enlarge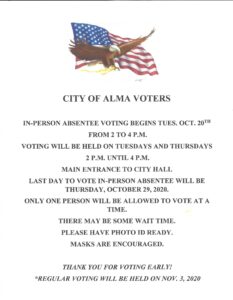 IMPORTANT – LEAF/BRUSH PICKUP NOTICE!
click on picture to enlarge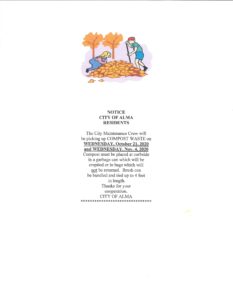 The next City Council meeting will be Thursday, November 12, 2020 at 6:00 p.m. at City Hall, 314 N. Main Street.    During this time, attendance via Zoom is encouraged.    Agendas are found under the Government tab. 
IMPORTANT ELECTION INFORMATION FOR ABSENTEE VOTING
PLEASE CLICK ON LINK BELOW!!
Uniform Absentee Instructions – By-Mail Voters

New Paper Ballot Voting Instructions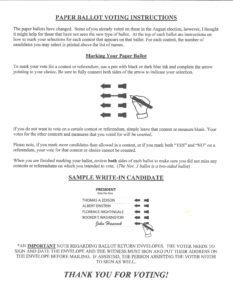 Click on Image to Enlarge
Ordinances Recently Passed
Residency Restrictions for Sexual Offenders 19 05

      The Council passed two ordinances regarding one-way streets for Pine Street, Orange Street and High School Road.  They also passed an ordinance regarding no parking on the East side of River St. between Pine and Orange and to restore two parking places on Main Street.
     Please click on links below for both ordinances.
Ordinance 19 03 Chapter 73 One way streets

Parking amendment to Chp 72 Ordinance 19 04

*View 2019 Tax Bills payable in 2020 below:
2019 Real Estate Tax Bills

2019 Personal Property Taxes

2019 Tax Listing

SIREN NOTICE