Residential Garbage Service:
The City of Alma is contracted with Waste Transport for the residential garbage service.
Per City of Alma Ordinance, clear City of Alma garbage bags must be used for residential garbage.
Garbage bags can be purchased at City Hall and Kwik Trip.  Cost of the bag is $3.25.  Garbage is to be placed curbside on Thursday morning.   Waste Transport notified the City that they will only observe holidays that fall on Thursday, such as Thanksgiving and/or Christmas, if it falls on Thursday, then garbage will be collected on Friday.
Residential Recycling:
The City of Alma joined the Buffalo County Recycling Program and the location was moved to S1551 Shawnee Drive (Alma Landfill)
Recycling Center Hours:  Fridays 9 a.m. to 3 p.m. and Saturdays 9 a.m. to 1 p.m.
The Buffalo County Recycling is a dual stream program.  Recyclable material needs to be sorted in two categories:  Containers (metal, aluminum and plastic) and Fibers (Cardboard, newspaper, magazines, etc.)
For more information contact the landfill during hours of operation at 685-4116.
 No money is longer paid for aluminum cans.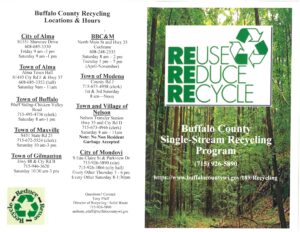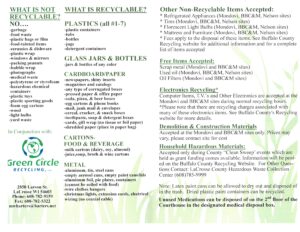 Residential Construction Dumpsters – Permits required
Dumpster permit (construction) app

DUMPSTER ORDINANCE

Demolition Landfill – located on Shawnee Drive off of CTH I
Hours:  Friday——————–9:00 a.m. to 3:00 p.m.
Saturday—————–9:00 a.m. to 1:00 p.m.